Those of us who follow Jesus have a hard time with anger.  Generally, the Letter of James serves as a caution,
Know this, my beloved brothers: let every person be quick to hear, slow to speak, slow to anger; for the anger of man does not produce the righteousness of God. Therefore put away all filthiness and rampant wickedness and receive with meekness the implanted word, which is able to save your souls. (James 1:19-21 ESV)
But does this mean that all anger is unrighteous?  Is there an anger that is not just "of man" and reflects the image of God in which we are made?
Jesus is our righteousness, and he expressed anger: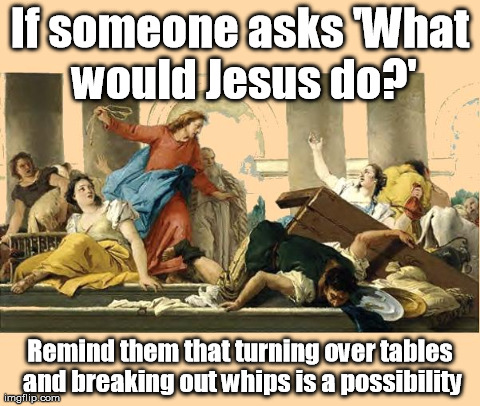 Another New Testament passage tells us that anger is not in and of itself a sin, but becomes evil when not expressed,
Therefore, putting away falsehood, speak the truth, each one to his neighbor, for we are members one of another. Be angry but do not sin; do not let the sun set on your anger, and do not leave room for the devil. (Ephesians 4:25-27 NAB)
So anger must be expressed and addressed in a timely way, so that reconciliation can take place before the devil builds walls of estrangement between people and dumps spiritual toxicity into the individual's soul.
But we (Christians) don't always do that very well, because we hear James' warning that our anger won't produce godly outcomes. Our ambivalence lets the devil move in, sometimes, as abusive clergy or lay bullies inflict their self-serving anger on well meaning folk who feel duty bound to appear anger free.
And appearing anger free isn't to be free of anger. Anger is like sexuality, a powerful force that doesn't just evaporate when ignored. It builds up and festers. Depression is sometimes defined as "anger turned inward." When we swallow our anger,  the righteousness of God, the abundant and joyful life of Christ in us, is sabotaged just as James warns.
I guess that the key word in James is "slow."  "Slow to speak, slow to anger."  We need to consider our anger – is it godly, a force to resist that which is manifestly evil?  And if it is, we must consider how we express it, being slow to speak until our tone and words are helpful,
Brothers and sisters, if someone is caught in a sin, you who live by the Spirit should restore that person gently. (Galatians 6:1 NIV, emphasis added)
Slow, but not too slow.  As the Letter to the Ephesians warns, "don't let the sun go down on your anger." Wise old married couples counsel "never go to bed angry."
While we live in this age, we'll be fighting (and often losing fights with) the world, the flesh and the devil.  Like all other sins, our misuse of anger can humble us and remind us that we live by the grace of God in Christ.  As one baptismal liturgy* puts it,
Q: Will you persevere in resisting evil, and, whenever you fall into sin, repent and return to the Lord?

A: I will, with God's help.
Not "IF you fall into sin," but whenever.  It is inevitable, and anger is one of the most common sin pits into which we fall.  Even in the bottom of that hole, Christ waits to boost us out and get us back on the path that leads to life.  He drew me up from the pit of destruction, out of the miry bog, and set my feet upon a rock, making my steps secure. (Psalm 40:2, ESV)
*Book of Common Prayer (1979 USA)